Microsoft Device Management
Microsoft
Device Management
What is
Device Management

?
Protecting and securing an organization's resources and data on devices within their organization is a critical duty for any Administrator. Device management is the task at hand. Users use personal accounts to receive and send an email, browse websites from home and restaurants, and download apps and games. Employees and students are among the users. They want to be able to swiftly access work and school resources on their devices, such as email and OneNote. As an administrator, your job is to preserve these resources while also making them accessible to users across their various devices.
What should we use to protect our resources?
The answer is 

Microsoft

Intune

. Intune offers mobile device management (MDM) and mobile application management (MAM).
Device management enables organizations to protect and secure their resources and data, and from different devices.
Organizations may ensure that only authorized persons and devices have access to confidential information by using a device management provider. Similarly, device owners can feel safe accessing work data on their phones because they know their device complies with their company's security requirements.
What does
Mobile Device Management

(MDM) and

Mobile Application Management

(MAM) do?
Support a wide range of mobile platforms and securely manage iOS/iPadOS, Android, Windows, and macOS devices.
Check to see if your devices and apps meet your company's security needs.
Create policies to protect your company's data on both company-owned and personal devices.
To enforce these regulations and manage devices, apps, users, and groups, employ a single, unified mobile solution.
Protect your company's data by assisting with the regulation of how your employees access and distribute it.
Many organizations, including Microsoft, uses Intune to secure sensitive data that users access from both company-owned and personal-owned devices. Device and app configuration settings, software update policies, and installation statuses are all part of Intune (charts, tables, and reports). These tools assist you in securing and monitoring data access.
People frequently have multiple devices that run on different platforms. An employee, for example, might use a Surface Pro for work and an Android smartphone for personal use. It's also usual for people to use several devices to access organizational resources like Microsoft Outlook and SharePoint.
You can use Intune to manage many devices per user, as well as the various platforms that each device runs, including iOS/iPadOS, macOS, Android, and Windows. By device platform, Intune divides policies and settings. As a result, managing and seeing devices belonging to a specific platform is simple.
Intune for Education, you can:
Manage the devices that your employees and students use to access data.
Keep an eye on the mobile apps that your people use on a daily basis.
Assist in the administration of user access and sharing to protect your company's data.
Check to see if your devices and apps have the most recent security updates.
Microsoft
Intune

Mobile Device Management (MDM) lifecycle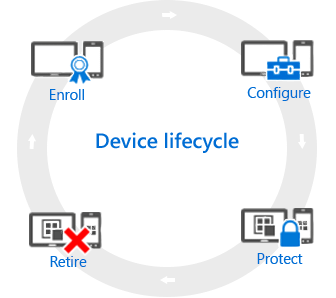 Every device you control has a lifecycle. Intune can assist you in managing this lifetime, from device registration to configuration and protection to device retirement when it's no longer needed. Here's an illustration: A device purchased by your company must first be enrolled with your Microsoft Intune account so that you can manage the device. Then it must be configured to your organizations liking and then the data stored on it by users must be protected. Finally, when the device is no longer used, you must retire or wipe all sensitive data on it.
Protect data and devices with Microsoft
Intune
Protect devices through policies
Device encryption
Authentication methods
Virtual private networks (VPNs) 
Software updates
Security Baselines
Protect data through policies
By Intune-managed apps
By App protection policies
Microsoft
Intune

is an MDM and MAM provider for your devices
Microsoft Intune is a cloud-based mobile device management (MDM) and mobile application management service (MAM). You have complete control over how your company's devices, such as mobile phones, tablets, and laptops, are used. To control applications, you can also set up custom policies. You can, for example, block emails from being sent to persons outside your company. People in your business can also use their personal devices for education or work using Intune. Intune helps ensure that your organization's data is protected on personal devices by isolating organization data from personal data.
With Intune

, you can:
Choose to be 100% cloud with Intune, or be co-managed with Configuration Manager and Intune.
Set rules and configure settings on personal and organization-owned devices to access data and networks.
Deploy and authenticate apps on devices — on-premises and mobile.
Protect your company information by controlling the way users access and share information.
Be sure devices and apps are compliant with your security requirements.
Microsoft's Enterprise Mobility + Security (EMS) solution includes Intune. To regulate who has access and what they may access, Intune interfaces with Azure Active Directory (Azure AD). It also has a data protection integration with Azure Information Protection. It's compatible with Microsoft's 365 suite of products. Microsoft Teams, OneNote, and other Microsoft 365 apps, for example, can be installed on smartphones. This feature allows your employees to be productive on all of their devices while keeping your company's data safe thanks to the policies you set up.
How
Intune

Manage Devices
Intune allows you to manage your devices in a way that works best for you. You may want complete control over your organization's devices, including settings, features, and security. In this method, devices and the people who use them "enroll" in Intune. They receive your rules and settings through policies established in Intune once they've been enrolled. You can, for example, set password and PIN requirements, set up a VPN connection, and set up threat prevention, among other things.
Users may not want their organization's administrators to have complete control over personal devices, often known as bring-your-own-devices (BYOD). Allow users to choose from a variety of options with this approach. For example, if users want full access to your organization's resources, they must enroll their devices. Utilize app protection settings that require multi-factor authentication (MFA) to use these apps if these users only want access to email or Microsoft Teams.
When devices are enrolled and managed in Intune, administrators can:
View the devices that have been enrolled and a list of devices that have access to the organization's services.
Configure your devices to suit your security and health requirements. You might, for example, want to restrict jailbroken devices.
Users can join your Wi-Fi network or use a VPN to connect to your network by pushing certificates to their devices.
Reports on user and device compliance are available.
If a device is no longer in use or lost, the data on it should be deleted.
Devices managed by
Intune

:
BitLocker key rotation (Windows only)
Disable Activation Lock (iOS only)
Full or Quick scan (Windows 10 only)
Remote lock
Retire (which removes your organization's data from the device while leaving personal data intact)
Update Microsoft Defender Security Intelligence
Wipe (factory reset the device, removing all data, apps, and settings)
Devices managed by Configuration Manager:
Retire
Wipe
Sync (force a device to immediately check in with Intune to find new policies or pending actions)
What is
Intune

for Government?
Intune for Government is a mobile management and application platform that helps assure security, privacy, control, compliance, and transparency. Physical and logical network-isolated Azure instances are used to suit the needs of the federal, state, and local governments in the United States. All customer data, applications, and hardware are stored in the continental United States on these instances, which are dedicated to the US government.
With Intune for Government you can manage Windows 10, iOS, and Android devices using the full MDM capabilities available in Intune. For example, you can:
Manage the data-accessing mobile devices used by government employees.
Control which mobile apps your users have access to.
Control how people access and distribute government data to keep it safe.
Ensure that devices and apps adhere to security guidelines.