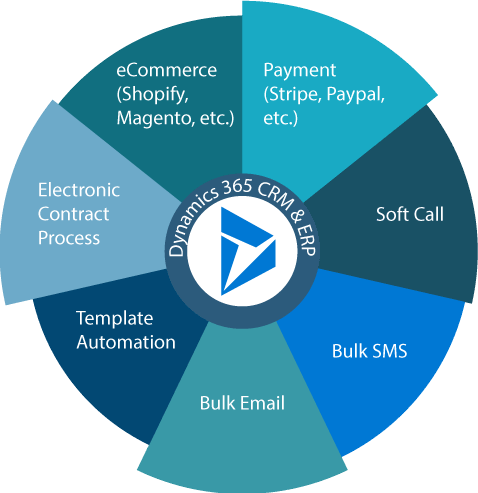 Transforming Your Business with Microsoft Dynamics 365, Business Central, and the Cloud – Microsoft 365 and Azure
We empower businesses to connect their financials, sales, customer services, projects/jobs, manufacturing, marketing, and service and operations. We provide implementation, customization, training, and managed services for Dynamics 365 Business Central and Wiise, Dynamics 365 Finance, and Dynamics 365 CRM modules (Sales, Marketing, Customer Services, Field Services, etc.).
We integrate Dynamics 365 CRM/ERP with public facing websites, third-party CMS (Content Management System), eCommerce (Shopify, Magento, etc.), Payment system (Stripe, PayPal, etc.) and Point of Sale. Our Dynamics Self-Service Portal helps customers to directly view their contributions and transactions. We give reality to Business Applications in days instead of weeks and months.
We also provide managed IT services in Microsoft 365 (SherPoint, Exchange/Outlook, OneDrive, Teams, etc.), Power Platform (Power Apps, Power BI, Power Automate, and Power Virtual Agent), and the Azure cloud platform.
Services We Provide for Dynamics 365
Our consultants will engage to study, analyze and identify your problems, determine requirements and define how to address your needs using Dynamics 365.
We will  assist you to choose and procure the right Dynamics 365 licenses with optimized functionalities to meet your unique business requirements.
We will do initial setup, configure & administrate to get Dynamics 365 system up and running in  quickest possible time. We can also help you with data migration.
If you are currently on older version of Dynamics 365 or on other legacy systems, we can help you upgrade to newest version of Dynamics 365 and migrate data.
We customize Dynamics 365 to suit your unique business needs, develop workflows and add-ons. We have the experience and technologies to bring these needs to life.
We integrate Dynamics 365 with other Microsoft services and third party apps such as payment gateways, websites, ecommerce sites, CAD apps, e-sign apps, SMS, etc.
If you avail our Managed Services, we will look after your systems for you. We will assign our resources with necessary expertise to respond your support calls.
We configure and design reporting dashboard for users. Using Power BI, We make role tailored reports and dashboards to track KPIs and trends for actionable insights.
Our team of Dynamics 365 experts will, remotely and/or on-site, prepare your end-users to take full advantage of all the functionalities available.