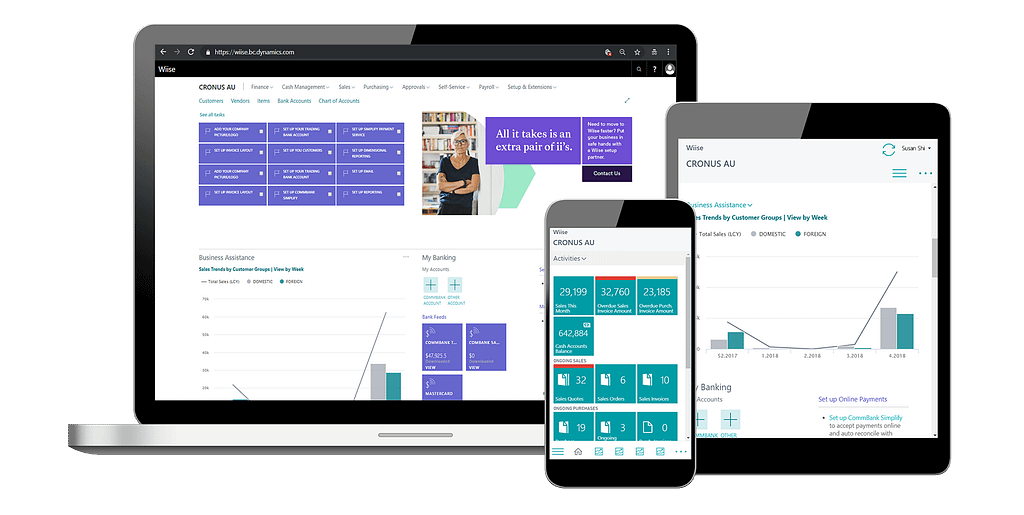 When your business grows beyond managing the books, Wiise ERP and accounting software moves with you. Manage all your operations and payroll in the cloud, in one hub.
Big Business Smarts at an Affordable Price
Smart App Business Solutions is a Wiise partner. Made to fit the Australian market, built by locals who know how you work, Wiise is ERP software that manages your accounting, payroll, bank feeds, inventory, CRM and more in one place. Clever cloud tech that you can access anywhere, anytime, from any device.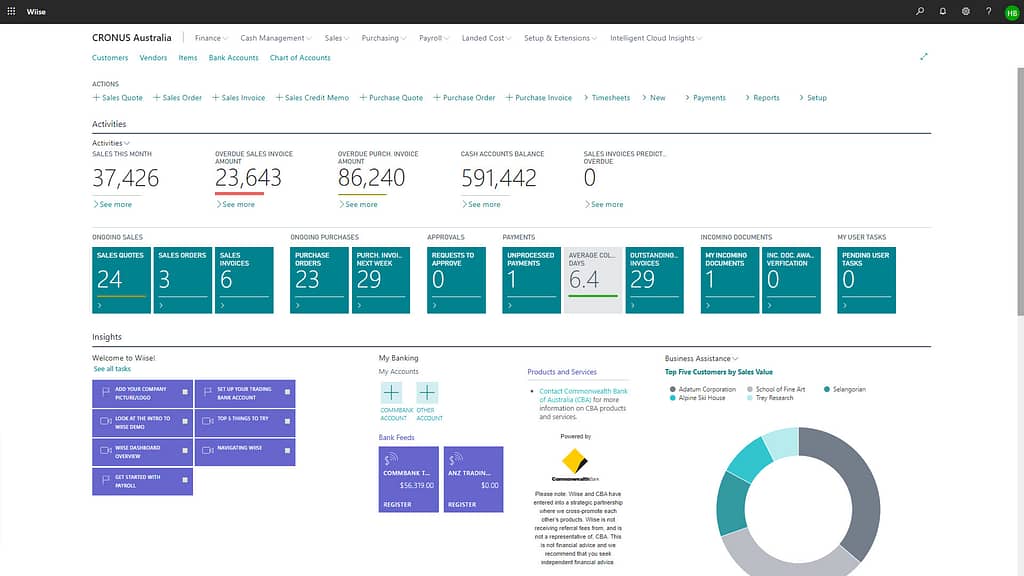 Wiise provides everything you need to manage your business in one place
Bring everything you need to run your business into one hub. Get the information you need anytime, anywhere with software that grows with you.
Accounting, inventory, people, payroll and operations in one hub
Wiise subscription packages make ERP technology accessible 
Real-time insights, powerful forecasting and reporting
No manual upgrades, just unlock enterprise features as you go
Work in your familiar, everyday tools, connected at no extra cost
Made to fit the Aussie market, built by locals who know how you work
Wiise is housed in secure, Australia-based Microsoft Azure data centres
Created by KPMG, built on Microsoft, backed by CommBank — leaders in their fields
More than just accounting software, Wiise is clever business software designed to streamline processes and run your entire business in one hub. Check out the video to find out more.
Designed to handle the needs of growing Australian businesses, Wiise brings accounting, operations, inventory, people and more into one hub. Here are some of our features.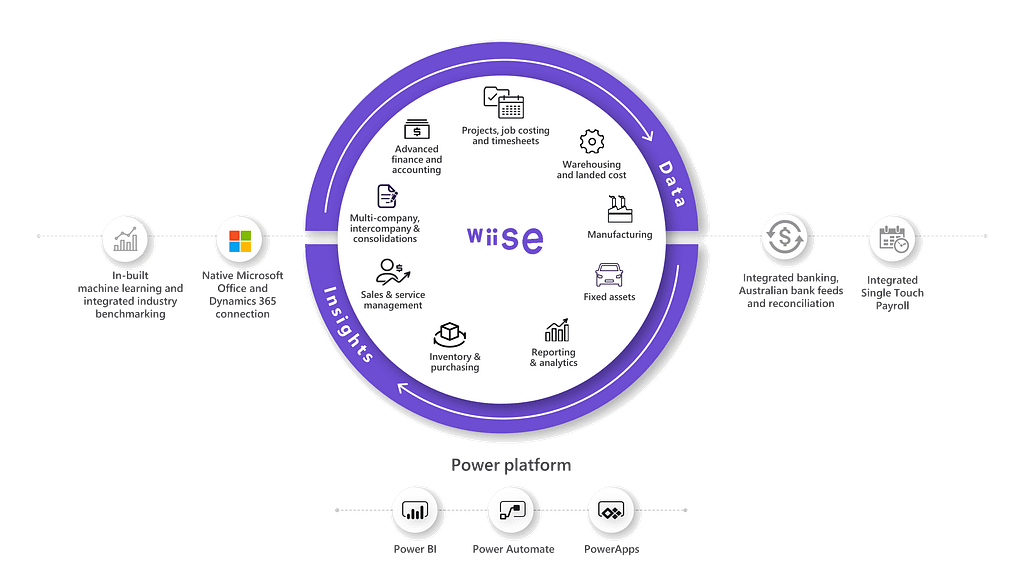 Accounting software that grows with your business. Wiise has a well-organised chart of accounts, the ability to tag, track and report on every entry, and unlimited transactions. 
See your data clearly and make decisions confidently with on-the-go access to real-time analytics, clever forecasting and consolidated reporting.
Get the complete picture of your inventory across all your locations. Customise orders easily with assemblies, kitting and multi-level BOM. Optimize Inventory management to cut expenses.
Manage every stage of manufacturing in one hub, seamlessly integrated with your operations, planning, purchasing, sales, and forecasting. Control phases from raw material to finished goods.
Stay single touch compliant with integrated Wiise Payroll. Stay on top of payroll changes with automated awards. Includes employee self-service and integrated timesheets.
See what stock's available across multiple locations and set up stock management processes to suit the way you work. From bin location only, to direct picks and put aways.
For businesses who've grown beyond managing the books
Wiise clients come from a broad range of industries — you each have your own challenges and unique needs. But you have a few things in common too. You run successful businesses but have moved on from managing the books. So you need a system that can grow with your increasing transactions and keep up with your changing operations. You're struggling to manage your business in multiple, out-dated or on-premise systems. So you can't work remotely or report on your information easily. And you often have clunky, manual processes. You're also looking to move to the cloud to be more efficient, access your data on the go and streamline your processes. 
Made for the Aussie market, Wiise is more than just accounting or financial management software — it's clever ERP software that manages your finances, payroll, bank feeds, inventory, HR, CRM and more in one hub. 
Made for Aussies business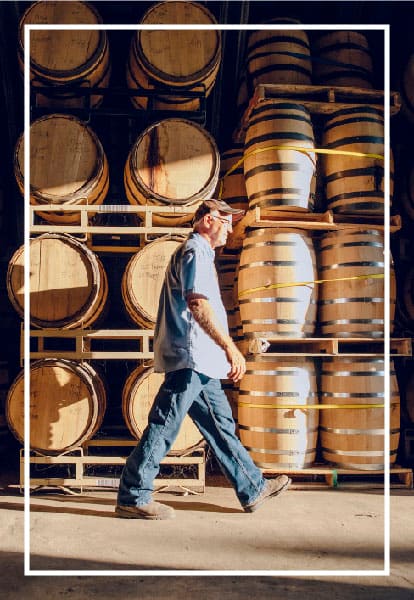 Warehousing & distribution
Manage your inventory, warehousing and finances in one place. Streamline reordering and know the true cost of your shipments with landed cost. Wiise is made for Aussie wholesalers and distributors.
Manage multi-entities and intercompany transactions with ease. Get a true picture of your financial health across the business. Access real-time reporting and dashboard insights to plan ahead with confidence.
Track your project and job spend and keep track of the budget. Manage all your companies in one system. And get real-time reporting, accurate insights and up to the minute cash flow.
Plan your production end to end with product scheduling, supply and capacity planning. See item components down to the detail so you've always got the parts you need with multi-level BOM.
Manage your programs, grants and funds in one place and see where your expenses are going down to the detail. Get fast, accurate reporting to satisfy the Board and funding bodies.
All the business tools you need to run clubs and associations of any size. Manage your memberships. Sell merchandise and manage stock. Reduce your admin and streamline your processes.