All-in-one Business Solution for Growing Businesses
Microsoft Dynamics 365 Business Central is an end-to-end Enterprise Resource Planning (ERP) software. Business Central is deployed in the cloud or on-premise or with hybrid approach. If your business outgrows your basic accounting software or your disconnected legacy system blocks your business growth, then Business Central is right solution for you. This AI-enabled, state-of-the-art solution empowers your people to deliver more value to their customers-regardless of where they are working from.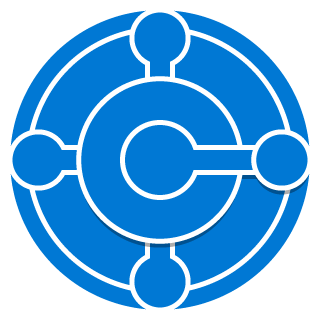 Comprehensive Business Management Solution for Small and Medium Businesses
Get an end-to-end view of your business with an integrated ERP system that connects your financials, sales, service, supply chain, and operations. Despite its ease of use and low cost of ownership, Business Central is functionally deep and rich owning to Microsoft's decades of expertise in business applications development. It is tailored specifically to the needs of small and medium businesses.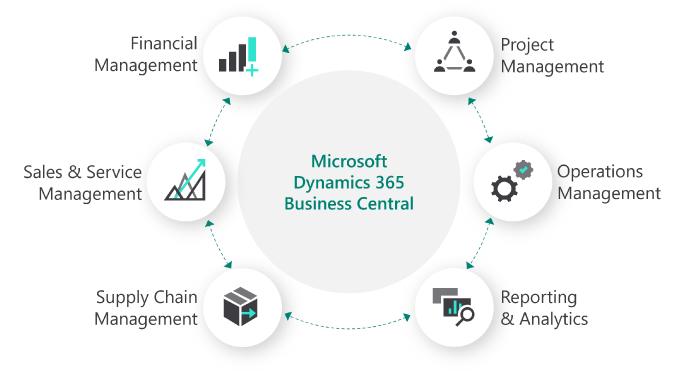 Our Microsoft Certified Business Central Apps and Services on Microsoft AppSource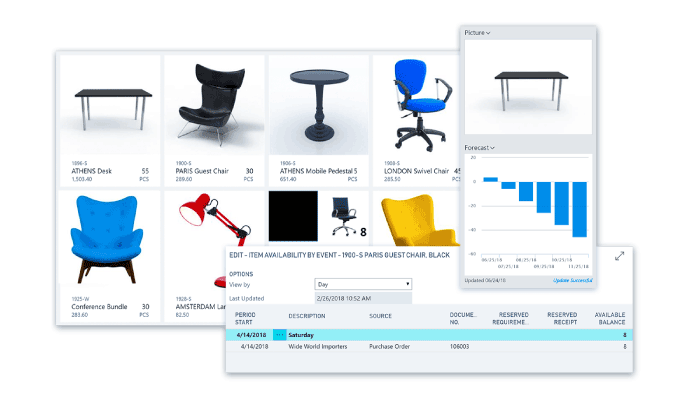 Other
Dynamics 365 Business Central

Services
Essentials
Purchase Order Management

Customer Relationship Management

Human Resources Management

Additional Operational and Management Capabilities
Premium
Purchase Order Management

Customer Relationship Management

Human Resources Management

Additional Operational and Management Capabilities
Team Member
Update Existing Data and Entries

Approve or Reject Tasks in All Workflows

Create, Edit, and Delete a Quote

Create, Edit, and Delete Personal Info

Edit Job Time Sheets for Approval

Use Power Apps/Power Automate
MICROSOFT DYNAMICS 365 BUSINESS CENTRAL BENEFITS
User-friendly
Dynamics 365 Business Central is a web-based application with a better user interface than Dynamics Nav.
Easy to use
Dynamics 365-Business Central can be accessible from anywhere because of per subscription model and Microsoft cloud hosting.
Greater security
Securing your financial data using Microsoft cloud hosting and 2-factor authentication on all platforms.
Scalability
Dynamics 365 Business Central can adapt to new problems and develop with your business.
Detailed insight
Dynamics 365 Business Central provides easy-to-use real-time reporting tools. Plus, Power BI connection improves reporting.
Improve supply chain
Dynamics 365 Business Central's powerful features and reporting help you uncover process and cost improvements.
Automation
Dynamics 365 Business Central uses automation to make the platform easier to use across all modules.
Microsoft Connect
Microsoft's Dynamics 365 Business Central integrates with other Microsoft products like Dynamics, Outlook, and Teams.
Better customer service
Take control of customer service with capabilities that provide full order visibility.
Customizable
Configure Business Central as a basic system or as a full-featured ERP.
Microsoft Dynamics 365 Business Central Features
Business central implementation for Financial Management
Transform your data from accounting to sales to customer interactions to get an full view of your business. Power BI dashboards track financial performance in real time.
Accelerate financial close reporting
Automate receivables and payables to close and report financials quickly and correctly while maintaining compliance.
Model and analyze data across dimensions to improve financial forecasts. Customize reports with Microsoft Excel.
Activate a company and start posting to the general ledger, chart of accounts and source codes.
Create deferral templates to automate the process of delaying revenues and expenses.
Keep track of fixed asset purchases, depreciation, write-downs, appreciations, and sales.
Post sales transactions in journals and handle receivables using generic journals.
Unlimited ledger dimensions for advanced transaction analysis.
Every transaction has an audit trail and a publishing description. Users can also establish reason codes to build audit trails.
Create, run, and manage several bank accounts to meet your diverse company needs.
Automatically reconcile your bank statements to open bank account ledger entries and keep track of them all.
Multi-currency payable, receivables, general ledger reports, resource and inventory items, and bank accounts.
Business central implementation for Customer Service Management​
At each touchpoint, add value
Rank sales leads by revenue potential. Follow upsell, cross-sell, and renewal possibilities throughout the sales cycle.
Improve the quote-to-cash cycle. Easily handle service requests and payments from within Outlook.
Understand your service tasks, workloads, and employee competencies to better allocate resources and speed up case response.
Keep track of your contacts and their contact information.
Create campaigns based on contact segmentation.
Organize your sales operations into stages and utilize this information to manage your sales possibilities.
Integration of Microsoft Dynamics 365
Simple procedures to synchronize data such as sales orders, item availability, units of measure, and currencies.
Business central implementation for Supply Chain Automation and Security
Use built-in intelligence to predict replenishment. With dynamic inventory levels, you only buy what you need.
Prevent missed sales and shortages
Calculate stock levels, lead times, and reorder points automatically. When things are out of stock, suggest alternatives.
Get advice on when to pay vendors to avoid late fees. Stop needless or fraudulent purchases with processes.
Track inventory as it moves between sites and account for the value of inventory in transit.
Business Central includes features for assembling items that connect with current features like as sales, planning, reservations, and warehousing to enable enterprises that supply products to clients by integrating components in simple procedures without manufacturing functionality.
Warehouse functionality in Business Central can be customized to fit a company's procedures and order volume. In basic warehousing, activities are performed order-by-order, whereas in advanced warehousing, they are combined for numerous orders.
Take control of your purchase order.
Manage sales orders and sales order processes.
Manage stock in multiple locations such as a factory, warehouse, showroom, retail store, or service car.
Business central implementation for Human resource Management
Organize employee data by experience, skills, education, training, and union membership.
Post expenses to employee cards for repayment.
Business central implementation for Project Management
Create, manage, and track customer projects using time sheets, work costing, and reporting. Create, amend, and control budgets for project success.
Plan capacity and sales to manage resources. Track customer invoices against order and quote costs.
Make informed decisions based on real-time project status, profitability, and resource utilization.
Register and sell resources or track specific resources.
Monitor resource utilization and obtain a full picture of your capacity for each resource, including availability and expected prices.
Keep track of work use and customer billing data. Manage both fixed-price and cost-plus jobs.
Automatically retrieve data for reporting Inter stat to statistics authorities. Local customs authorities can tell you if your firm must file such a report.
Business central implementation for Order management
From forecasting to execution
Automatically produce production plans and purchase orders based on sales estimates.
Be efficient in warehousing
Get a 360-degree view of stock for faster orders. Set up bins based on warehouse layout and storage unit dimensions to log every item transaction.
Calculate and optimize manufacturing capacity to fulfill customer demand.
Register your service requests, due services, service orders, and repair requests.
Keep track of all service items, including contracts, component management, BOM references, and warranties.
Record service levels, response times, discount levels, and contract history, including used service items, parts, and labor hours.
Assign personnel to work orders and track their progress.
Set availability, skills, and stock levels for service staff and field technicians.
Set up and track your service rates.
Business central implementation for Manufacturing
Register and sell resources or track specific resources.
Monitor resource utilization and obtain a full picture of your capacity for each resource, including availability and expected prices.
Keep track on any production company database of work use and customer billing data. Manage both fixed-price and cost-plus jobs.
Allows enterprises to ship raw materials, unfinished goods, or semi-finished goods to be processed.
Business Central Implementation process
We prepare FRD based on deep understanding of day-to-day company procedures. This document examines current procedures and anticipates the new system.
Based on FRD, we determine which requirements are standard and which require customization. So, we prepare Gap-Fit manual with customization and setting instructions.
SABS's professionals train end customers on how to use the system after customizations and changes. We make sure users are familiar with the new system.
End users approve the system after studying and utilizing it. This indicates that the system has been designed and is working as expected during FRD and Gap-fit documentation preparation.
On this day, an organization's regular personnel begin using Microsoft Business Central. All customizations and requirements are based on the FRD and Gap-fit. All corporate data and procedures are moved to the new system.
Nobody knows Dynamics 365 Business Central as we do
Smart App Business Solutions, a Microsoft Gold Partner, is one of the most in-demand Microsoft Dynamics 365 solution providers for companies looking to digitize their business processes.
Expertise spanning many years
The Smart App Business Solutions team has delivered services with efficiency and in record time because of our in-depth knowledge of the products that business needs and years of experience.
Experts in the Field
Smart App Business Solutions has a team with a lot of hands-on expertise, which allows us to spot problems and requirements early on.
Project Completion
Our staff has completed many successful projects efficiently and successfully, and we continue to add new feathers to our cap.
24*7 Customer Service
We offer client ongoing support for all our upgrade, audit, and advice implementation services.
Services & Products
We provide a comprehensive Microsoft Business Central set to help firms accelerate growth and digitalize, improving organizational agility.
100% Customer satisfaction
Our satisfied customers and success stories speak for our team's hard work, dedication to the cause, and quality of project delivery.
Want to Learn More About Business Central?